via China Daily, by Xu Lin
**IRMA's Rectal Hygiene Survey is now available in Chinese (as well as English, Thai, Russian, Spanish, French and Portuguese). Click here to take the brief, anonymous survey.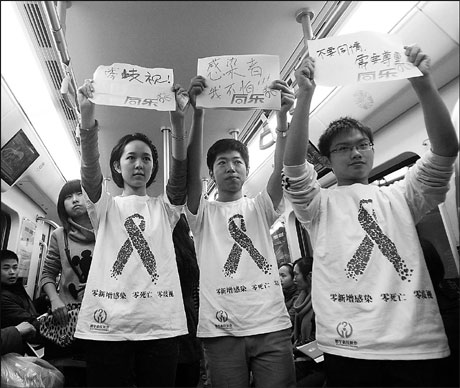 Beijinger Zhang Lei was surprised to see posters in her neighborhood that showed two shirtless men each holding a condom.
She snapped three photos of the posters in her community in Beijing's Xicheng district and posted them on her Sina Weibo micro blog on Nov 29. Her post stirred fierce debate.
Some doubt the government approved the posters. Others believe it shows progress in China's HIV/AIDS prevention and mindset.
"I never thought government offices would print such posters, as homosexuality seems taboo in China," Zhang, who works in a real estate finance company, says.
"I think the posters are good but wonder if the elderly can understand them."
The posters were created in 2009 by the Chinese Center for Disease Control and Prevention (CDC) and Chengdu Tongle Health Consulting Center, a Chengdu, Sichuan province-based NGO that promotes homosexual culture, HIV/AIDS prevention and treatment.
In December 2010, the CDC printed the posters and mailed them to its branches throughout the country.
The center also posted the downloadable electronic versions on its website.
"The posters have been used for some time, but the public didn't know that until recently, because the posters are mostly displayed in gay bars and public bathhouses that are frequented by homosexuals," Xu Jie, of the CDC's National Center for AIDS/STD Control and Prevention, says.
"Conventional AIDS posters can't capture the attention of special groups, such as intravenous drug users and homosexuals. It's necessary to design different posters for them, to better promote HIV/AIDS prevention and treatment."
He says the center has also designed posters for drug users and sex workers.
There are about 780,000 people living with HIV/AIDS in China. About 48,000 people were diagnosed as HIV-positive in 2011. Among them, 29.4 percent are men who have sex with men (MSM).
Read the rest.
[If an item is not written by an IRMA member, it should not be construed that IRMA has taken a position on the article's content, whether in support or in opposition.]